One-stop Connections Through MRY
With one connection, Monterey Regional Airport can reach over 95 different destinations worldwide!
MRY offers one-stop connections to numerous cities worldwide making it an excellent choice for those who seek convenient worldwide connectivity. Toggle between the lists of domestic and international destinations below to see where we can take you.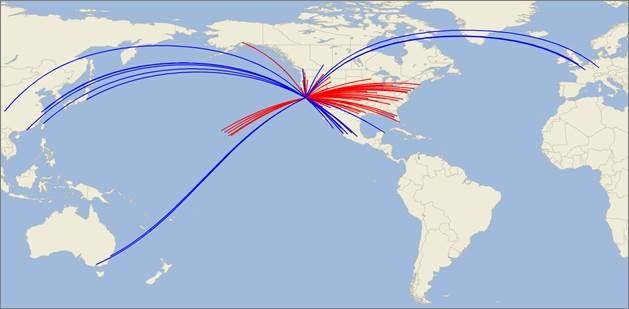 Domestic
ABQ – Albuquerque, NM
ACV – Arcata, CA
ANC – Anchorage, AK
ASE – Aspen, CO
ATL – Atlanta, GA
AUS – Austin, TX
BFL – Bakersfield, CA
BNA – Nashville, TN
BOI – Boise, ID
BOS – Boston, MA
BUR – Burbank, CA
BWI – Baltimore, MD
BZN – Bozeman, MT
CLE – Cleveland, OH
CLT – Charlotte-Douglas, NC
CMH – Columbus, OH
COS – Colorado Springs, CO
DCA – Washington, DC (DCA)
DEN – Denver, CO
DFW – Dallas, TX (DFW)
DRO – Durango, CO
DSM – Des Moines, IA
DTW – Detroit, MI
ELP – El Paso, TX
EUG – Eugene, OR
EWR – Newark, NJ
FAT – Fresno, CA
FLG – Flagstaff, AZ
GJT – Grand Junction, CO
HNL – Honolulu, HI
IAD – Washington, DC (IAD)
IAH – Houston, TX (IAH)
IND – Indianapolis, IN
ITO – Hilo/Hawaii, HI
JAC – Jackson Hole, WY
JFK – New York, NY (JFK)
KOA – Kona, HI
LBB – Lubbock, TX
LIH – Lihue, HI
MAF – Midland/Odessa, TX
MCI – Kansas City, MO
MCO – Orlando, FL (MCO)
MEM – Memphis, TN
MFR – Medford, OR
MIA – Miami, FL
MKE – Milwaukee, WI
MSO – Missoula, MT
MSP – Minneapolis, MN
OGG – Kahului, HI
OKC – Oklahoma City, OK
ORD – Chicago, IL (ORD)
PDX – Portland, CA
PHL – Philadelphia, PA
PIT – Pittsburgh, PA
PSP – Palm Springs, CA
RDD – Redding, CA
RDM – Redmond, OR
RDU – Raleigh/Durham, NC
RNO – Reno, NV
SAT – San Antonio, TX
SBA – Santa Barbara, CA
SEA – Seattle, WA
SLC – Salt Lake City, UT
SMF – Sacramento, CA
SNA – Orange County, CA
STL – St. Louis, MO
SUN – Sun Valley, ID
TPA – Tampa, FL
TUS – Tucson, AZ
XNA – Northwest Arkansas, AR
YUM – Yuma, AZ
International
BJX – Leon/Guanajuato, Mexico
CDG – Paris-De Gaulle, France
CTU – Chengdu, China
CUN – Cancun, Mexico
FRA – Frankfurt, Germany
GDL – Guadalajara, Mexico
HGH – Hangzhou, China
HKG – Hong Kong, Hong Kong
HMO – Hermosillo, Mexico
LHR – London, UK (LHR)
MEL – Melbourne, Australia
MEX – Mexico City, Mexico
MZT – Mazatlan, Mexico
NRT – Tokyo, Japan (NRT)
PVG – Shanghai, China
PVR – Puerto Vallarta, Mexico
SJD – San Jose Cabo, Mexico
SYD – Sydney, Australia
TPE – Taipei, Taiwan
YVR – Vancouver, Canada
YYC – Calgary, Canada