The Big Switch
Monterey Regional Airport "Flips the Switch" on Solar Project Expected to Save $5.5 Million in Energy Costs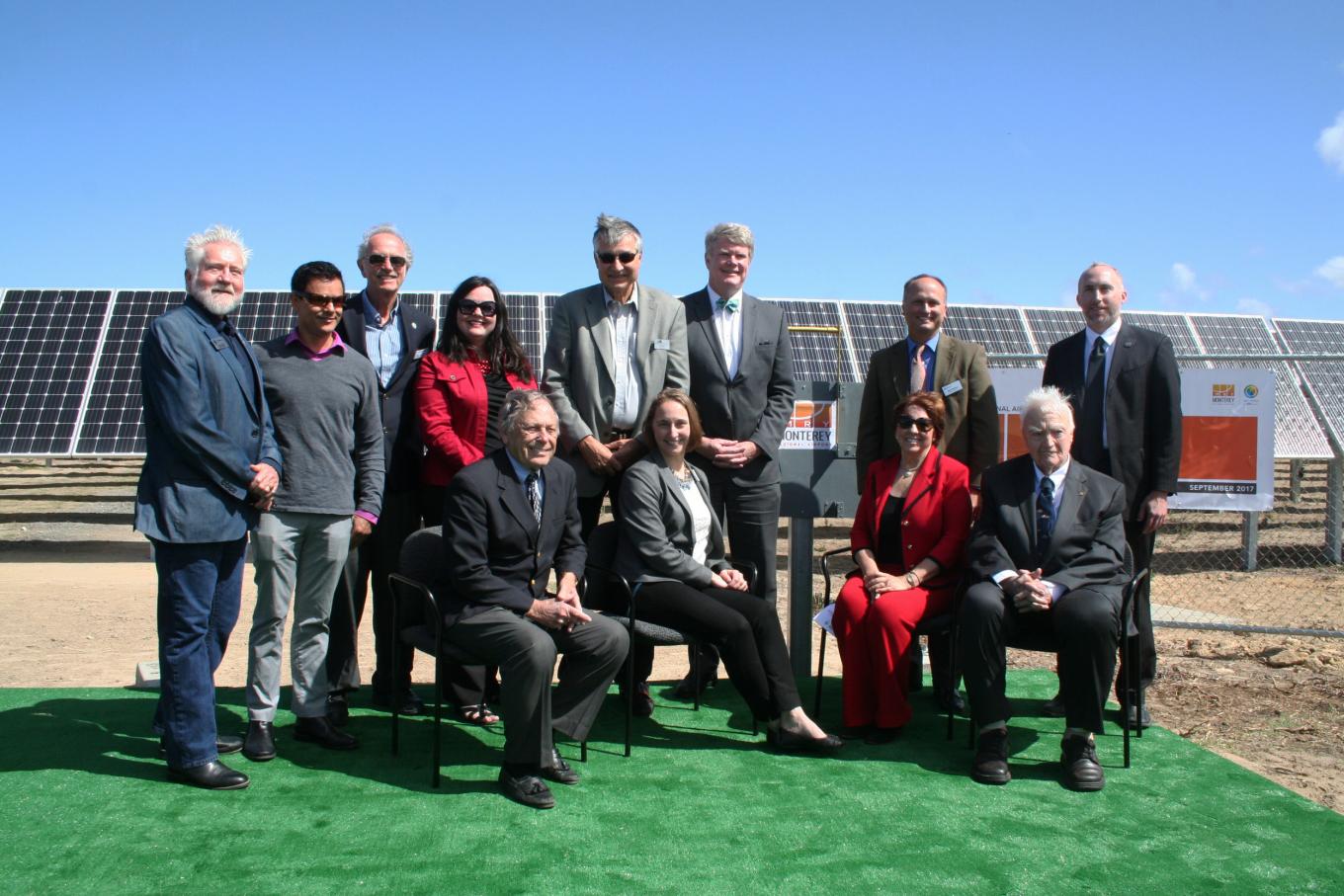 MONTEREY, Calif., – Monterey Regional Airport (MRY) celebrated the completion of its new, on-site solar program during a "flip the switch" event connecting a field of solar panels beside the runway to the electricity grid last Thursday, September 21, 2017. Through a collaborative partnership with OpTerra Energy Services, MRY's new clean energy generation capacity represents a new chapter in the airport's innovative approach to enhancing the environmental impact of its facilities. Statewide leaders from the California Energy Commission as well as regional and local elected officials attended in support of the new sustainable energy project, which is expected to save MRY $5.5 million in energy savings.
Monterey Regional Airport Board of Directors, Community Leaders, and OpTerra Team celebrate the Big Switch to on-site solar on Thursday, September 21, 2017.
Energizing Impact for Travelers and Community Members
With over 30 daily flights that connect travelers to destinations across the globe, MRY serves nearly 400,000 commercial passengers every year. In the summer of 2016, the MRY Board of Directors continued exploring ways to keep energy costs down while ensuring smooth operations for its growing number of passengers.
Monterey Regional Airport leaders collaborated with a San Jose and Salinas-based team of OpTerra engineers to develop the 826 kW solar program that will produce 1.5 million kWh of clean energy annually, the equivalent to providing enough electricity to power 111 homes a year. Airport leaders supported the opportunity to upgrade their energy profile to generate a positive environmental change, while also benefiting regional community members through stimulation of the local economy with an estimated 42 local jobs created by the total economic impact of the project.
Maximizing Technology Solutions for Safety and Savings
Over the quick, four-month implementation process of installing the solar in the summer of 2017, OpTerra prioritized designing around the issue of reflectivity, or glare, which is a serious consideration in any airport-proximate installation. OpTerra's previous energy partnerships with other regional airports, including Salinas Municipal Airport and Yuba County Airport, underline the team's expertise in complying with Federal Aviation Administration (FAA) regulations and navigating other industry nuances during the solar installation process.
Because aircrafts may fly near the project area and potentially be exposed to glint and glare from solar operations, OpTerra has conducted and submitted three FAA-approved glare studies that show the compatibility of similar PV electricity generation arrays with airport functions. The installation is not only sensitive to not interfering with flights, but is also California Environmental Quality Act (CEQA)-compliant, ensuring the organic regeneration of the federally protected endemic vegetation on site as well.
As part of the installation, OpTerra coordinated Net Energy Metering (NEM) and Net Generation Output Meter (NGOM) technology implementation with regional utility Pacific Gas & Electric (PG&E). The ground-mounted solar system that was activated last week was designed to track the movement of the sun throughout the day, ensuring maximum renewable energy production and streamlined costs using the proven tracking technology. By installing the system under NEM, the District will receive full compensation from PG&E for all the electricity generated by the solar projects at any time.
Demonstrating Leadership for Regional Airports
During last Thursday's site energization celebration, Bryan Early, California Energy Commission Special Advisor to Commissioner Andrew McAllister recognized Monterey Regional Airport for its leadership in sustainable energy. Early commented, "City, county and state officials today celebrate efforts to save energy and help achieve the state's ambitious energy goals. Because of the tremendous financial savings that these types of projects can generate, partners – like the Monterey Regional Airport – demonstrate that we can aspire to achieve sustainable outcomes while also improving community resources."
Airport Executive Director Michael La Pier echoed, "With this comprehensive solar installation, Monterey Regional Airport is paving the way for other mid-size airports looking to upgrade their operations and establish on-site energy generation. Our partnership with OpTerra and the California Energy Commission is helping us realize our long-term sustainability and energy efficiency goals without compromising our vision for upholding high standards of safety and customer service at all times. We sincerely appreciate the help and assistance of Assemblymember Mark Stone and his staff in this effort. Without their help, this project would have been extremely difficult to complete."
About the Monterey Regional Airport:
For more information about the Monterey Regional Airport, visit https://montereyairport.com or contact Jennifer Fahselt, Communications & Community Outreach Coordinator, at 831-648-7000, extension 200.
About OpTerra Energy Services:
OpTerra Energy Services is a national energy company that works with education, local government, commercial, industrial, and institutional organizations to implement efficiency and sustainable energy solutions that save money, enhance safety, improve assets, and protect the environment. As a subsidiary of ENGIE, the number one energy efficiency services provider in the world, OpTerra Energy Services provides a unique and extensive set of energy and sustainability management services to thousands of customers across the U.S. The company has provided more than $2 billion in energy savings for its customers over the past 40 years. For more information, please visit www.opterraenergy.com or contact Lani Wild, Communications Manager, at 415-735-9080.
---
About Monterey Regional Airport Monterey Regional Airport (MRY) is Monterey County's only commercial airport and accommodates over 400,000 passengers each year. The airport serves nine nonstop markets. We are committed to providing our customers with superior services and a convenient, hassle-free experience in a safe, secure, professional environment. Be sure to visit montereyairport.com or follow @montereyairport on Facebook, Instagram and Twitter.