MRY vs SJC: Why Travelers Should Fly Monterey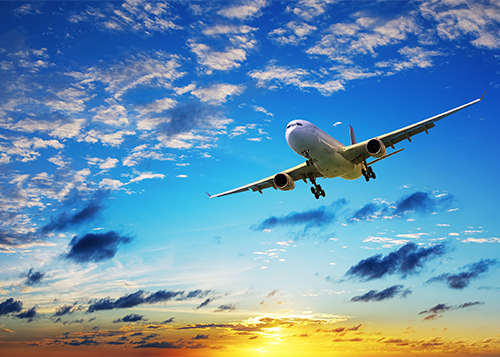 Did you know that in 2016 over 932 million passengers were transported by more than one million flights into and out of U.S. airports?* Most travelers who pass through the nation's airports harbor certain thoughts and ideas about airports and flying - some of which are true, and some are false.
In particular, there are a lot of misconceptions about Monterey Regional Airport (MRY). There are so many factors that play into the reliability of service at an airport. We would like to share some of those to help educate you so that you can make the best choices for your personal and business travel while also providing an alternative to those who are tired of driving to Bay Area airports.
It is important to educate yourself about the facts before you needlessly spend too much of your valuable time or money on air travel and transportation. One misconception of flying out of MRY is that tickets are much more expensive. This is not always the case. To prove this point, let's take a look at two hypothetical travelers, Madeline and John, and the comparison of their scheduled flights, trip costs and travel time breakdowns.
As you will see in the flight information below, Madeline and John both departed to Dallas on a Monday and returned on Thursday. Madeline traveled out of Monterey Regional Airport and John chose to fly out of San Jose International Airport.
Click to see Madeline's MRY Itinerary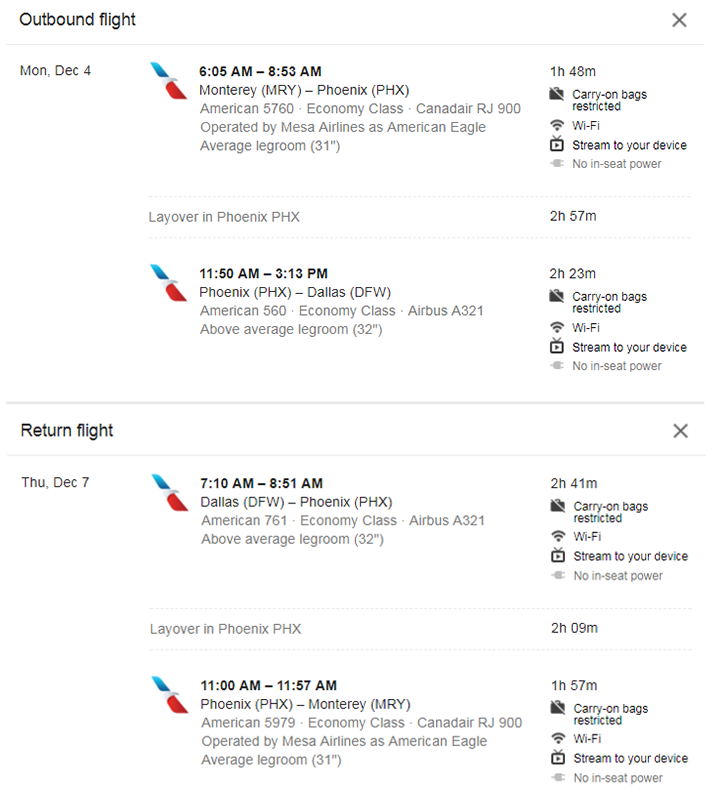 Click to see John's SJC Itinerary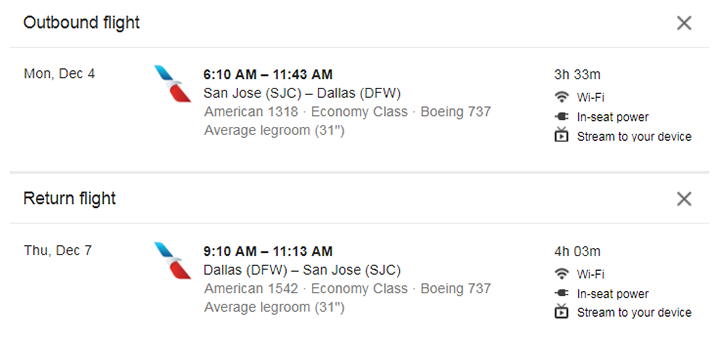 Both of our travelers had a six week lead time to book their trip to Dallas with a Monday departure and Thursday return. Based on the comparison below, you will see that Madeline paid less for her airfare out of MRY than John did for his nonstop flight out of SJC. So many people tend to focus exclusively on the convenient nonstop but sometimes this option is not as convenient or cost effective. When you factor in gas or mileage reimbursement, parking fees (not to mention the stress of parking your car at a larger airport) and getting your luggage onto a shuttle bus to the terminal, is the non-stop flight worth it? Let's not forget about the worry of traffic delays when having to drive longer distances to airports. In the end, Madeline's trip was $163.97 less than the cost of John's trip.
We all consider our time to be valuable and try to maximize our productivity in the 24 hours we have in a day. So let's look at the total travel scenario to see how our travelers used their time. While Madeline enjoyed an extra two hours of sleep, John had to wake up for his flight two hours before Madeline had to, even though his flight left at almost the same time. This is due in part to allow for the hour and a half (at least) drive time from Monterey to San Jose and the fact that most major airports ask that you arrive two hours before your flight. A request that does not apply to MRY because we are a smaller, regional airport. John will also likely have to wait in the TSA security line for at least an hour while Madeline will probably only wait fifteen minutes to get through security at MRY.
If we look at our traveler's return flights, John gets back into SJC about 11:15am but by the time he gets his luggage and gets on a shuttle to long-term parking, he may not even get on the road until 1:15pm and will probably be looking at about an hour and a half drive back home, providing there's no construction or accidents on his way back to Monterey. Madeline arrives back into MRY at approximately 12:00noon. She can get her luggage, walk to her car and not have to deal with an hour and half drive back home after a long trip. She will be home before John even gets on the freeway!
There are many variables to consider when planning your trips, from how far in advance you book to costs you will consider both in time and money. Whether you are planning travel for business or for pleasure, these factors can affect your decision-making process.
The purpose of this illustration is to show you that you should consider the "whole picture" before making your travel plans in both getting there and coming back home. I hope this has given you some food for thought and we hope you consider flying out of Monterey Regional Airport for your next trip. Doing so just may save you time, money and may make traveling a lot more enjoyable.
The truth is, if you live on the Central Coast, Monterey Regional Airport is in your backyard and is so incredibly convenient! Fares are oftentimes less expensive, as you can see above, or they are comparable to other bay area airports without the hassle of long drive times, expensive parking and long TSA lines. If you are planning a trip into our beautiful area, know that you can fly into Monterey Regional Airport and be at your vacation spot within minutes of landing at the airport rather than flying into a bay area airport like San Francisco or San Jose, then having to face at least an hour and a half drive just to begin your vacation.
We hope to see you on your next adventure!
Take a look at our list of over 99 one-stop destinations where MRY can take you.
Visit www.aa.com to book a flight to Phoenix or one of the many connecting options available.

Click here to subscribe to the MRY Blog and receive notifications of future blog posts.
*Source: U.S. Department of Transportation https://www.rita.dot.gov/bts/press_releases/bts017_17